10WAYS to improve your Hospitality Automation
Updated: Aug 30, 2022
Whether you are a restaurant, a catering location of a pop up venue, we can help you streamline your process and revenue with some great tools to manage your customer experience and drive increase revenue and loyalty.
We are the 'one stop shop' for all your payment solutions
Self-Service EPOS

AI Cashier - Mashgin

Online Ordering - Order Ahead

Fast POS payment solutions

Micromarket

Contactless Vending

Cash Till Automation - Smart Cash Manager

Pagers and Call Bells

Smart - Cash- Managers

Scan-Order-Pay
1. EPOS - Self Service
Boost sales by providing more areas for your customers to make fast and easy purchases.
Use our dedicated software for fast navigation through the POS
Our team have installed self-service self-service POS in many locations around Ireland - check out more here
Our Self Order Kiosks are easy to use -
Customers order and pay, away from the main servery

Printed order slip

Large format GUI being developed this year

"McDonald's Style"
Find out more
2 AI Cashier / Frictionless – Mashgin
This is the fast growing area in automation
400% Faster Checkout than Traditional POS
Drive up revenue by reducing lines. Our powerful technology can identify multiple items in under a second so your customers can scan, pay, and be on their way.
Mashgin's Touchless Checkout System uses computer vision to recognize objects the same way your eyes do.
It can instantly identify packaged goods, produce, and open plates from any angle.
Truly Touchless Technology
Keep customers and employees safe with completely touchless self-checkout. Add items and pay without touching anything but your food
Find out more here
3. UPAY – Order Ahead
Allows customers to pre-order and pay for items online, arranging collection or delivery at a time that suits.
Benefits of UPay Order Ahead:
● Removes Queues
● Aid Social Distancing
● Eliminates cash - improves hygiene
● Convenient way for busy customers to order from their
desk or on the move.
● Collect or have it delivered at a time that suits
● Allows for preparation in a timely manner, providing a
higher level of customer service.
● Easy to setup from within Uniware Cloud.
● Payment made in advance.
Check out more here


4 POS/EPOS
UPay phone payment app is much faster than contactless bank cards.
Fully integrated PEDs are available where required - no time delay for keying of price, no discrepancies.
Use barcode scanning for relevant products.
5 Micromarket
Dualtron have designed a streamlined and integrated solution using a Uniware UPOS till in self-service mode.
Customers simply grab their purchase items and scan them at the white light barcode scanner and pay using the fully integrated contactless debit/credit card terminal.
As seen in Euro Car Parts.
5 Mobile POS (UPoSM)
This is a full featured POS system - small enough to use in a food truck !
Powerful hardware in a stylish design
The revolutionary terminal that started it all. The A920 combines the full features of an Android tablet with a powerful POS payment terminal, all in a sleek and compact design.
All-in-one portable PoS

Sleek compact design

Accepts all payment methods

Table service

Queue busting

All mobile payments with the power of a full-size till
Find out more here
Download our Mobile POS minibrochure
6 UPAY
You can set up unique promotions

You can set up unique loyalty programmes

You can set up events

Push Notifications/messaging

Integration with other systems

Advanced onsite and remote reporting available – real time and dashboards

Instant paperless receipts

Top Up cashless payments

Click & Collect/Order Ahead

Self Service Options

Remote menu and price access
Find out more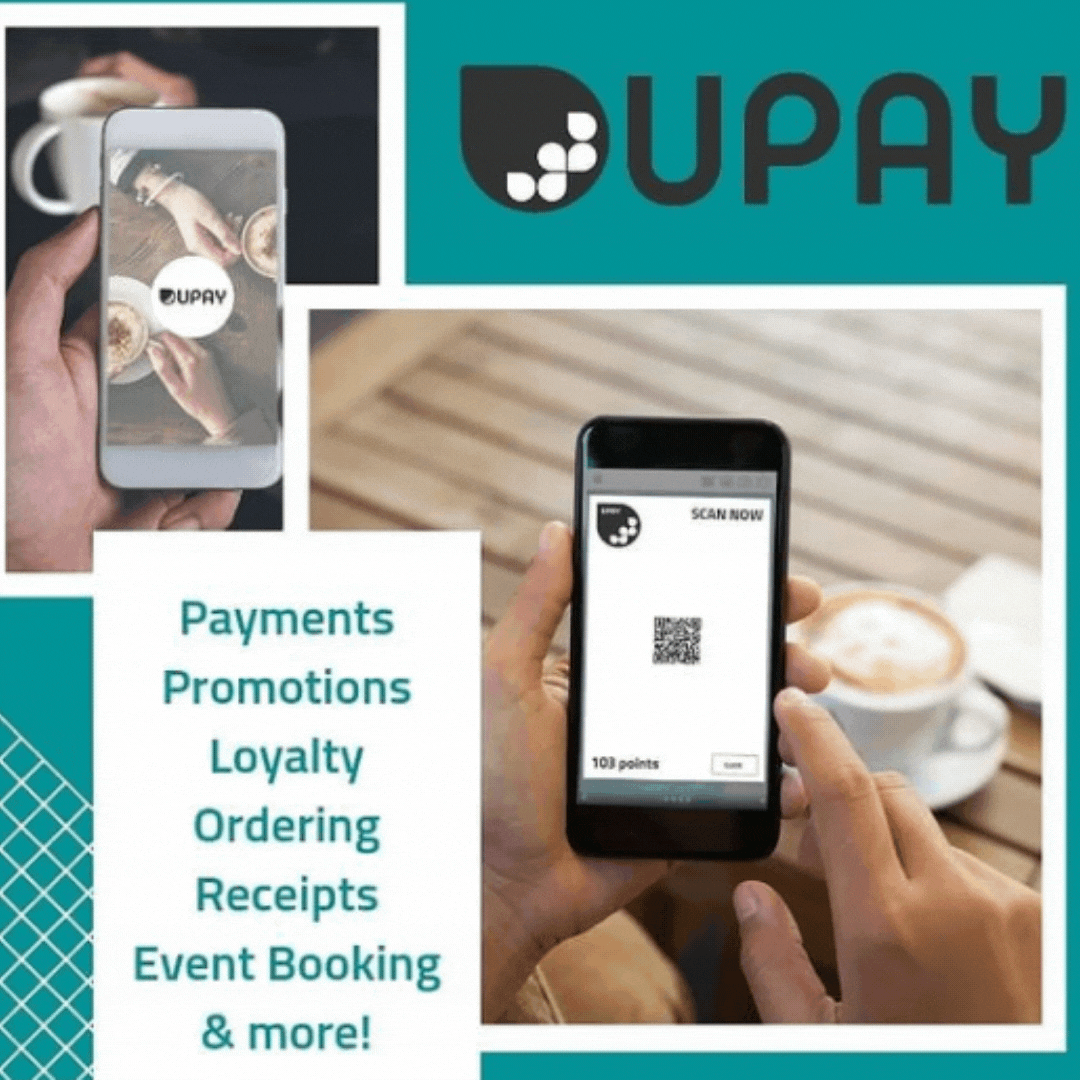 7 Kitchen Screens
Instant Communication floor to kitchen

Orders can come from UPAY/Order ahead /POS till/ Ordering Kiosk

Easy to integrate

Bump screen to track and display order status
8 Pagers, Watches & Call Bells
We have a large selection of pagers, call bells and watches to improve table service and waiting areas.
For more information click here
Check out our recent case study
9 Our New Smart Cash Managers


With a smart cash manager, your customers can pay cash directly into the device, and even receive change.
The SCM-A offers your customers a fast and secure way to pay by cash or coins at your retail store. This system is sleek with a touch screen and ideal for a counter top in a coffee shop or grocery store.
Find out more
Check out our CASHIER AUTOMATION videe here
10 Check out our latest technology - SCAN-ORDER-PAY
Subscribe to your Youtube channel to see all our products in action -
Our motto is 'You can count on Dualtron'. We pride ourselves on our reputation for rapidly resolving customer issues. This helped us to win the Services category at the SFA National Small Business Awards 2017. Our people are our greatest asset and customers who work with us tend to stay.
You are very welcome to our new Headquarters in Dublin to view any of our products and speak to our technical & support teams.